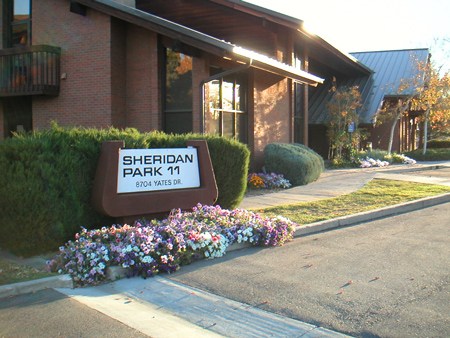 Affordable, charming, vaulted-ceiling professional suites in contemporary office park and setting, available for immediate leasing.

Owner occupied with responsive management, stop by and let us show you our building!

We think you will find
Sheridan Park 11
is Sheridan Park | Westminster, Colorado and the North Central Boulder-Denver's most attractive office leasing opportunity.
When purchased in the mid 1980's, we had our choice of small buildings in Sheridan Park; we chose Sheridan Eleven because of its corner location with more parking than its neighbors, its sunny south entrance which allows for safe and dry egress all times of the year (no treacherous ice and snow such as our neighbors frequently endure), and its prominent exposure which makes our tenants' entrance at early and late times open and safe.  (We have also installed high pressure lighting all around our building's exterior; compare with our neighbors!)


We will offer the best leasing value in Sheridan Park; feel free to bring in other comparable building bids to discuss. Our interest is in the long term investment appreciation of our building, not in short term premium leasing income.

Westminster Colorado (Thornton, North Denver - Boulder Turnpike)'s Most Charming & Best Valued Office Lease Opportunity!

Stop by to see for yourself!

303-650-1750